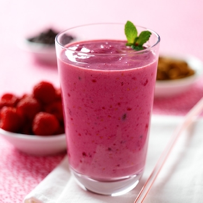 Try these recipes for your next smoothie!
Green Banana Smoothie
1 Green Banana (Frozen is best)
2 cups chopped kale
1 teaspoon Stevia
1 scoop vanilla whey protein
½ cup almond or coconut milk
Raspberry Explosion
½ cup frozen raspberries
3 tablespoons (non-flavored) yogurt
½ teaspoon Stevia
1 scoop vanilla whey protein
4 oz. of ice or water to desired consistency
Mint Choconut Dream
1 scoop of chocolate whey protein
½ cup of coconut milk
¼ – ½ cup of fresh mint
¼ teaspoon of Stevia
1 teaspoon organic cocoa
** For each smoothie add ingredients to a powerful blender or Vita-mix. Add/remove ice, water, or almond/coconut milk as desired for the optimal consistency. Blend greens for a longer time than berries to improve consistency and texture. **
Free Smoothology Class
Want to learn more? Join us for our FREE Smoothology 101 class on February 20th at 6:00pm at our Downtown Roanoke chiropractic office. We'll demonstrate and teach some of the finer points to making your next smoothie the healthiest and tastiest thing you have done for your body this year. Of course there will be taste tests! Contact us to reserve your spot!
Dr. Daryl Rich, DC, CSCS