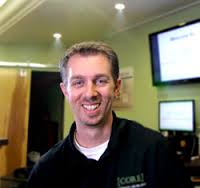 Dr. Daryl Rich, DC, CSCS, graduated from Logan College of Chiropractic in St. Louis, where he also earned a Bachelor of Science degree in human biology. He is a graduate of Liberty University in Lynchburg, Virginia, with a Bachelor of Science degree in biology and chemistry.
Dr. Rich has completed extensive post-graduate training in ART® (Active Release Treatment), an internationally recognized soft-tissue treatment. He also has post-graduate training in rehabilitative exercise training, clinical nutrition, and the management of TMJ syndrome.
Dr. Rich is a Certified Strength and Conditioning Specialist, certified with the National Strength and Conditioning Association. He has experience treating and training athletes at the high school, collegiate, Olympic, and professional levels.
Dr. Rich and his family have lived in Roanoke since 2004. They love this area and enjoy being a part of providing chiropractic services to the greater Roanoke region.