The cool autumn air always brings a smile to my face. As much as I love the hot summer, there is something about the fall that makes you feel warm and cozy. I love a good bonfire, hot cup of coffee, and anything made with apples and cinnamon. Autumn also brings great fall recipes and this year it's very important to make those annual recipes healthier and more immune boosting. With that in mind, we put together some of our favorite immune boosting recipes for this newsletter to help keep you and your family healthier than they have ever been before.
Keto Blueberry Breakfast Bar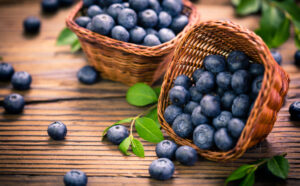 This breakfast bar is an easy recipe to make and keep ready for a healthy breakfast on the go. Blueberries are an excellent source of nutrients to help optimize your immune system. They are low in calories, but high in fiber and vitamins C and K. This high in antioxidants superfruit may also help to lower blood pressure, reduce heart disease, and improve our brain function and memory.
Ingredients
Crust:
1 cup almond flour
2 tablespoons butter, melted
1/4 teaspoon salt
1 large egg beaten
Filling:
3 cups blueberries, fresh or frozen and thawed,
6 tablespoons Swerve or equivalent granulated sweetener
1 1/2 teaspoons Xanthan Gum
Crumble topping:
1/2 cup super fine almond flour
3 tablespoons Swerve Brown or equivalent brown sugar substitute
2 teaspoons coconut flour
1/8 teaspoon salt
1/4 teaspoon vanilla extract
2 tablespoons butter, melted
Instructions
Pre-heat oven to 300 degrees F. Crisscross two sheets of parchment paper to fit inside an 8 x 8 inch baking pan, so you can lift the bars out of the pan once they have cooled.
In a medium sized bowl, mix together almond flour, salt and melted butter. Stir in beaten egg and mix well to combine.
Press the crust into the bottom of the lined baking pan.
Bake for 18-20 minutes until just beginning to brown. Take the crust out of the oven and increase the temperature to 350 degrees F.
For the filling, add blueberries and sweetener to a medium sized sauce pan and bring to a simmer over Medium High heat. Lower the heat and simmer until most of the berries have broken down, 8 minutes. Quickly whisk in Xanthan Gum and cook, stirring, until thickened, 1-2 minutes.
For the crumble topping, in a medium sized bowl, mix together almond flour, coconut flour, salt and sweetener. Stir in vanilla and melted butter and mix until chunks form. You can use your hands to clump them into larger crumbles, if you'd like.
Pour filling onto crust. Sprinkle crumble topping on top.
Bake at 350 degrees F for 15 – 20 minutes until the crumble topping is browned.
Allow to cool in the pan for 1 hour before cutting into 9ths.
Hot Bone Broth Latte
Bone broth is more popular now than ever before. It is similar to traditional broth in how it looks and tastes, but bone broth is much healthier than traditional broth. This is because the bones are cooked until the marrow releases. Bone marrow is a fantastic source of collagen, one of the key components our body needs for healthy bones, skin, blood, and tendons.
The body does create collagen, but we sometimes need help, and that's where bone broth comes in handy. When you combine that bone broth with a healthy fat like ghee, coconut oil, etc., you end up with a hot drink that will help your body recharge and refocus!
Ingredients
2 cups bone broth (or traditional broth with 1 scoop collagen)
1/4 tsp ground ginger
1 pinch turmeric
1 pinch cayenne pepper
1 pinch black pepper
1 tbsp grass fed butter, coconut oil, or ghee
OPTIONAL: cream or coconut cream, to taste
OPTIONAL: collagen peptides (stir in for extra protein)
1 dash sea salt
Optional Savory latte toppings – fresh herbs, chopped green onion, red pepper flakes, etc.
Instructions
Heat bone broth, spices, and butter over medium heat, stirring until combined.
Use a hand blender or regular blender to blend the coconut cream into the broth mixture. Blend until mixture is creamy and frothy.
Divide equally into 2 mugs. Top with sea salt and optional herbs or green onion. Sip and savor!
Turmeric Ginger Lemonade with Fresh Mint
This is great for fighting fatigue and reducing inflammation in the body which will supercharge your immune system. It's quick to make, naturally sweetened, and super refreshing!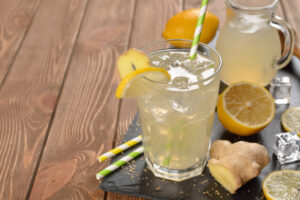 Ingredients
4–5 cups spring water
1 to 2 teaspoon turmeric powder
1 to 2 teaspoon ginger or 1 tbsp fresh ginger root
1/4 cups or more lemon juice or juice of 1 lemon
Lemon Slices
2–4 tablespoons maple syrup or raw honey (adjust to desired sweetness)
Optional: Stevia to sweeten more if desired
Optional: pinch of black pepper to activate curcumin in turmeric
Fresh Mint leaves
Instructions
Bring water to a light boil on the stove.
Add in your spices and let it boil again for a minute, then reduce and simmer turmeric for 10 minutes.
Remove from the stove and let it cool a bit.
Then strain the liquid to get rid of excess ginger root or spice powder. Strain with a mesh strainer or cloth.
Pour the rest of the liquid into a pitcher along with your lemon juice, extracts, and sweetener of choice. Mix again so that the maple syrup and lemon juice are combined with the turmeric ginger brew.
Garnish with extra lemon slices, fresh mint, and store in fridge.
Add ice if desired but note it will dilute flavor.
**Notes*- Simmering will extract the beneficial compounds from the turmeric and ginger
Spinach Salad with Warm Bacon Dressing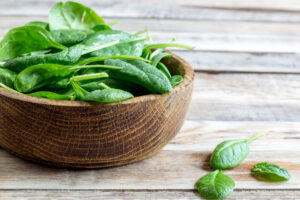 This simple salad won't take long to throw together and will give you a healthy dose of folate, vitamin A, vitamin C, fiber, and iron. Dark leafy greens like spinach can be a great source of magnesium, which can help boost your immune system and is also known to improve blood glucose control.
Ingredients
10.5 oz Baby Spinach
8 oz of diced bacon
4 large sliced hard boiled eggs
2 oz Mushrooms, sliced very thinly (about 4 large)
Customize with additions of shrimp, apple, strawberries, Mandarin oranges, walnuts, blue cheese
Warm Bacon Dressing:
2 tbsp Shallot, finely chopped
1/4 cup bacon grease
2 tbsp red wine vinegar
1 tbsp low carb brown sugar (brown or coconut sugar)
1 tbsp whole grain mustard
1/2 tsp dried tarragon
Salt and pepper to taste
Instructions
Dice bacon and put in a cold pan over medium heat. Cook until crisp, stirring occasionally, about 5-6 minutes. Remove bacon. Pour bacon grease into a small container to use for the dressing.
While the bacon cooks, slice the mushrooms, finely chop the shallot, and slice or chop the eggs.
Keeping the heat at medium, add the mushrooms to the pan and keep moving for a few seconds until lightly cooked, but not raw. Remove.
Saute the shallots until translucent. Turn the heat to medium low and add the bacon grease, vinegar, tarragon, and whole grain mustard, stir until the ingredients combine and emulsify. Salt and pepper to taste.
Toss the hot dressing with the spinach and divide between 4 serving bowls. Taste to adjust seasoning. Top with mushrooms, bacon, and eggs.
Serves 4 people
Creamy Carrot-Tomato Soup
This creamy carrot-tomato soup is a tasty dairy free bisque. Made with simple wholesome ingredients, it's quick to make and naturally gluten free, paleo and vegan.
Ingredients
4–5 green onions, stem only (or 1/4 c chopped white)
1/2 tbsp olive oil
Two 6 inch carrots- chopped (extra for garnishing if desired)
10 ounces of vegetable broth (extra for mixing starch)
28 ounce can of whole peeled tomatoes
1 to 2 tbsp lime juice (or 1/2 of a lime)
1 tbsp almond butter
1 tsp kosher salt
1/2 tsp black pepper
1/8 teaspoon ground cumin
1/2 tsp cinnamon
1/4 tsp ground cloves
1/4 tsp ground ginger
2 tbsp red curry paste or spicy chili paste
1/2 cup coconut milk lite
1–2. tbsp Arrowroot starch or cornstarch (not paleo) mixed with water or non dairy milk
1/4 tsp onion powder
Sea salt and Pepper to taste
Optional Toppings:
Fresh Parsley and Red Pepper Flakes
Roasted chopped Nuts
Instructions
Place onion, oil, and chopped carrots in stock pot. Cook in pan on medium heat for 5-8 minutes or until onions are browned and carrots softened.
Add 10 ounces of vegetable broth and whole peeled tomatoes. Mix and simmer 5 minutes.
Next add your almond, butter, salt/pepper, spices, chili paste and coconut milk. Bring to a light boil then reduce and simmer for 10 minutes.
Carefully transfer soup into a blender (or Vitamix) and puree until creamy. You can also use a hand blender.
Place pureed soup back in the stock pot. Add the onion powder and arrowroot "slurry" and cook on medium low, whisking, for another 5 minutes. You don't want arrowroot starch to cook too long with the soup. It's best to add last.
If using corn starch, you can add it sooner and cooker longer and it thickens food quickly and at higher temperatures and won't break down.
Taste and adjust salt/spices if needed.
Serve with toppings of choice. Optional cooked chicken or shrimp will boost protein! Spiralized veggie noodles of choice to garnish which will add more texture.
Store in the fridge covered for up to 5 days or freeze.
---
We hope you enjoy these recipes. If you have any of your own that you would like to share with us, we would love to see them! Our patients often have the best recipes and we love to try them.
Make sure to take advantage of our Immune Boosting Supplement Sale. All supplements that boost the immune system are 10% off until Thursday, November 12. This includes L-glutamine, Vitamin D3, Olive Leaf Extract, Zinc Glycinate, N-Acetyl Cysteine, Nature's Shield, GR8-dophilus, and Elderberry Syrup!

Daryl C. Rich, D.C., C.S.C.S.