The quarantine world of 2020 had many things that I hope we never have to live through again. One thing though that I am thankful for during this weird time in our life, was our family's ability to go and hike nearly every weekend. Living here in Roanoke, we are fortunate to be within a short drive of so many world class hikes. Many of us in the valley know that hiking is fun and healthy for us, but do you know why?
Hiking Boosts Vitamin D
Everyone has heard that sunlight is good for us because it helps us make Vitamin D. One of the most underappreciated benefits of exposing ourselves to sunlight is regulating our circadian rhythm. The term "circadian rhythm" refers to our bodily processes that are regulated within the 24-hour cycle of day and night – the obvious difference between these two times is sunlight.   
When our bodies, more specifically our eyes, register the amount of light provided by the sun it sets off a cascade of events in our entire body to tell us what time it is within the 24-hour cycle. Our eyes are the bridge between our internal and external environment when it comes to this light mechanism and the pineal gland, which secretes melatonin to help us feel tired at the end of the day and fall asleep at night is also regulated via this light pathway. Which makes it important for us to get sunlight in our eyes – NOT directly looking at, but being outside with the sun early in the morning to help our brain and body regulate to the rhythmical nature of many of our body's processes.
If you have been struggling getting to sleep or staying asleep at night, try going for a hike on a sunny day and see how well you sleep that night. The vitamin D and melatonin you produce after just 15 minutes of direct sunlight is substantial enough to reset your circadian rhythm and help induce a good sleep pattern. 
Hiking Decreases Blood Pressure
Another benefit of being out in the sun is the release of a chemical called Nitric Oxide (NO). You may have heard of this before due to the popularity of it in supplement form. One of the many responsibilities of this NO is to relax the smooth muscles of our blood vessels which eases the burden on our heart in transporting blood, oxygen and nutrients throughout our body. Interestingly, a group of researchers found a correlation between exposure to UVA radiation, which is one of the spectrums of light provided by the sun and lower blood pressure. Now this is not a call to ditch all BP medications and think sitting in the sun can replace them, but to spread the word that nature, namely the sun, is scientifically proven to make us healthier beyond the typical vitamin D topic. 
Decreases Cortisol
Everyone has heard cortisol is the major hormone that controls stress in our bodies. For this reason, it gets a bad rep when in reality this hormone is beneficial in the short-term by increasing alertness and activation of what is called our "flight or fight" nervous system. However, long term activity of our stress response and cortisol release is what becomes a problem. This is typical for people that find it hard to truly relax, which allows the brain and body to rest and recover both during our waking hours and sleep.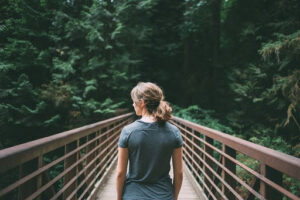 Researchers have found that an effective way to lower cortisol levels and, as a result, stress levels are to go on a hike and more specifically in a riparian zone – near a body of water. A group of hikers in southwest Idaho performed a typical salivary cortisol test before and after their hike which resulted in scientists finding a high correlation between spending time in these riparian zones, cortisol levels and well-being for hikers.
An actionable step we can all take after learning this is that, if we are acutely or chronically stressed it may benefit us to spend some time in nature and more specifically near a body of water. So below are some of our family's favorite hikes to help you get outside and improve your Vitamin D and Cortisol levels. Some of these have water features and some have majestic views.
Leave us some comments on what are your favorite places to hike, bike, or paddle in our beautiful Roanoke Valley. Feel free to drop us an email or leave us a comment on Facebook or Instagram. 
Our 10 Best Family Hikes
1. Thunder Ridge
Thunder Ridge is an easy to moderate hike located right off of the Blue Ridge parkway North of the Peaks of Otter. There are two majestic views along this ridgeline hike, at the beginning and at the end of the out and back hike.
Length: 5.5 miles. Elevation Gain: 954ft. Feature: Majestic View
2. VA Explore Park
The trail system at VA Explore park, located off of the Blue Ridge parkway, offers a variety of trails for all levels. If you are looking for an easy relaxing stroll, try the trail that follows the Roanoke River.
Length: 2 miles.   Elevation Gain: 50ft.    Feature: Roanoke River View
3. Buzzard Rock
Buzzard Rock at Read Mountain is a 3.6 mile out and back trail located in Cloverdale. It is rated as a moderate hike and dogs are allowed on a leash.
Length: 3.6 miles  Elevation Gain: 862 ft. Feature: Majestic View
4. Star Trail
The Star Trail is a 3.7 mile out and back trail in Roanoke. It is a moderate hike that begins off of Riverland Road and winds its way up to the Roanoke star. This trail is convenient to everyone in Roanoke and is a great short afternoon or early evening hike.
Length 3.7 miles. Elevation Gain 813ft.  Feature: Majestic View
5. Hay Rock
Hay Rock is a trail that follows the Appalachian Trail from Daleville to overlooks of Carvin's Cove. It is a moderate hike that can vary in length based upon your desire to follow the Appalachian Trail as far as you would like. 
Length: 3-7 miles.   Elevation Gain 800-1400ft.  Feature: Majestic View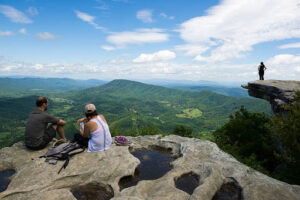 6. McAfee Knob
Maybe the most famous hike along the Appalachian trail, McAfee offers a picture perfect ending. This out and back hike is long, at nearly 8 miles, but the trail or fire road is easy to navigate. Located in Catawba, this trail is heavily used and best when visited during the week.
Length: 7.8 miles.  Elevation Gain 1811ft.  Feature: Majestic View
7. Apple Orchard Falls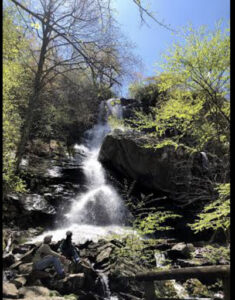 Apple Orchard Falls trail is a 2.5 mile out and back trail that is rated as moderate to hard. It is located directly off of the Blue Ridge Parkway just North of the Peaks of Otter. This hike is highlighted by its trail following a creek that cascades down the mountain. The hike ends with a fantastic waterfall, rated as one of the best along the Blue Ridge. 
Length: 2.5 miles. Elevation Gain: 994 ft. Feature: Waterfalls
8. Sharp Top
Sharp Top trail is a short but steep hike that ends with perhaps the best view in Virginia. Located across from the Peaks of Otter lodge along the Blue Ridge Parkway, this hike is great when combined with a picnic next to Abbot Lake. 
Length: 2.6 miles.   Elevation Gain: 1227 ft.   Feature: Majestic View
9. Devil's Marbleyard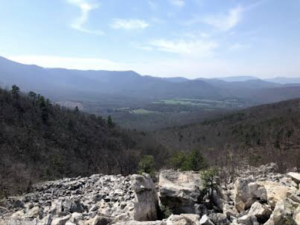 Devil's Marbleyard is a 4.5 mile out and back trail near Natural Bridge Station. This is a difficult hike, as the majority of the hike is a boulder scramble to the top. This unique hike can be done by small children but older individuals who struggle with climbing should be cautious. This hike can get warm in the sunlight, make sure to bring plenty of water.
Length: 4.5 miles. Elevation Gain: 1463ft.    Feature: Majestic View
10. Dragon's Tooth
Dragon's Tooth is a 4.1 mile out and back trail located in Catawba. It is a difficult hike that pays off with a great view from the top of the Catawba valley.
Length: 4.1 miles. Elevation Gain: 1227ft   Feature: Majestic View
Do you have a favorite hike?
Let us know of your favorite hike in the local area. We would love to add to our list this year! Stay healthy Roanoke!

Daryl C. Rich, D.C., C.S.C.S.