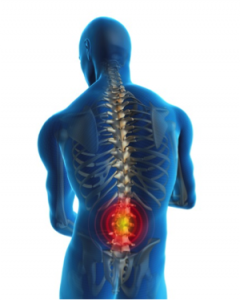 Facet Syndrome is a condition of the spine that affects many older adults. It occurs when the articulating joints of the spinal vertebrae degenerate and cause pain and a decrease of proper movement.
Facet Syndrome is responsible for over 60% of neck pain and nearly 40% of low-back pain today. Some of the common symptoms of facet syndrome include dull and achy pain when resting or with gentle movements, sharp pain with end-range movement (particularly rotation and extension), tenderness at the skin, and swelling and inflammation around the joint.
Facet Syndrome is responsible for most chronic neck and low back pain. Commonly occurring after injury, like falls and motor vehicle accidents, the effects of facet syndrome can last for years without the proper treatment.
Conventional Treatment Options
NSAID pain relievers are commonly prescribed for treatment of facet syndrome. However, ibuprofen, aspirin, naproxen, and other pain killers have repeatedly been shown to be minimally effective for spinal pain. Also, when NSAIDs are used for over 10 concurrent days the risk for stroke, ulcers, and stomach bleeding is greatly increased.
Corticosteroid injections are often prescribed as the next step in alleviating facet syndrome. However, the long-term effectiveness of this treatment is very questionable. Likewise, recurring injections can quickly degenerate the cartilage in the facet joint.
Fusion of the facet joints is often a last resort, and the effectiveness of this extensive surgery is often poor.
[CORE] Chiropractic and Wellness Treatment

In our next post, I'll cover our treatment plan for Facet Syndrome.

Free Class
Join us on Thursday, June 19, at 6:00 at our free Low Back Pain class to learn more! The class will be held at our Roanoke, VA office. Email us to reserve your spot today.
Daryl Rich, DC, CSCS