With the rise of COVID, at-home school and work, plus the normal everyday stressors of life; stress and anxiety levels have never been higher. I am constantly being asked by patients lately about what natural treatments are available to combat stress and anxiety that will allow patients to function without pharmaceutical help. In previous posts we have reviewed how the use of CBD oils may be used for fighting stress and we tackled how Acupuncture may be of help for patients too. This week we are looking at how we can use our sense of smell and essential oils to reduce stress and anxiety. 
Our sense of smell is very complex. We all agree that some things smell awful, such as rotten eggs or a car exhaust. Other smells seem pleasant to most of us, like fresh flowers or warm baked bread. The cerebral cortex and limbic system of the brain are the areas of the brain where messages about smell are sent. This area of the brain controls a number of main functions such as sleep, sexual drive, hunger, and thirst. It also relates emotion to memory, which is why a smell can often trigger memories or other feelings that may release an emotion. Chemicals within the brain are triggered by different scents. The emotional release triggers hormones and automatic responses affecting heart rate, blood pressure, and other physical feelings. Do you ever get a whiff of your spouse's cologne or perfume and feel your heart flutter?
Now there are new ways to trigger the brain into relaxing and de-stressing during the upcoming fall and holiday season by using the olfactory system. Essential oils are an easy and convenient way to induce an intended feeling or emotion in a safe and predictable manner. Below is a list of recipes that can be used to brighten anyone's mood and make the next few weeks more enjoyable.
Essential Oil Diffusers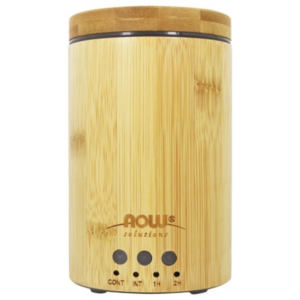 How do you release the benefits of an essential oil throughout the room? Use an essential oil diffuser. Diffusers disperse the essential oils in a micro-fine vapor so they can stay suspended in the air for several hours. Make sure your diffuser is specifically designed for essential oils and does not use any type of heat, as it can degrade the benefits derived from the oils.
The best type of diffuser is the ultrasonic diffuser. This new technology uses an ultrasonic wave that vibrates with water at a frequency of 1,700,000 times/second. This generates a COOL MIST and releases plenty of oxygen and ions, while breaking up the essential oil into the water producing extremely fine micro-particles. Diffusers are safer and more cost effective than candles, making them an ideal choice for the living room or bedroom.
Which Oils To Use
Choosing which oil to use is dependent upon two things: What are you trying to accomplish? And what aroma combination do you prefer?. The number of oil blends and their combinations can be overwhelming. To assist you, we are including  a few of our favorites below. The first step is to make you familiar with some of the more widely used oils.
Lavender
is perhaps the most common and popular of the oils. If you don't know what to use, lavender is a good start. Pure lavender oil smells great. The pure oil does not smell like your granny's cupboard or a cheap bouquet of bathroom flowers. It is a soft, herbaceous scent that adds body to a blend. Lavender is effective against insomnia, depression, pain, wrinkles, acne, bites, cuts, stings, and so much more. It is like a first aid kit in a bottle!
Tea Tree Oil
may not be a front-runner in the scent department, but it is an antibiotic, antiviral, antiseptic, antifungal, and also an insecticide. What more could you ask for?
Eucalyptus Oil
is handy when the house feels like it should be quarantined for risk of infection! It smells fantastic and brings relief to someone battling an illness. Eucalyptus essential oil uses are endless when it comes to illness. It is antiseptic, antiviral, and a decongestant. Eucalyptus can be placed in a diffuser to help open up the sinuses or mixed with a "carrier oil" like coconut oil and spread on the chest and back as a cough rub. It can also be combined with other oils and used as a household disinfectant.
Peppermint Oil
may be the most versatile oil. Along with lavender oil, peppermint can be used from head to toe and in many different application methods. Peppermint has been an effective treatment for stomach aches, soothing digestive issues, freshening bad breath, and relieving headaches. It has antimicrobial properties, can improve mental focus, clears the respiratory tract, increases energy, and relieves painfully tight muscles.
Essential Oil Blends
 The most common use of oils is to place a few drops in an ultrasonic diffuser as described above. Other application methods do exist and can make essential oils even more useful. Below are several combinations of blends for the diffuser along with a couple mixtures that can be used in the bathroom. The most fun thing about oils is the ability to experiment and develop your own aromatherapy or any other creative use.
Calming and Relaxing Blends:
Relaxing Flower Garden Diffuser Blend: 8 drops Chamomile with 4 drops of Lavender
Stress Reducing Diffuser Blend: 6 drops Grapefruit Oil, 2 drops Tea Tree Oil, 2 Drops Ylang Ylang Oil
Relax and Breathe Diffuser Blend: 4 drops Lavender, 4 drops Lemon, 4 drops Peppermint
Lavender Bath Oil Blend: 2 ounces of Almond Oil with 20 Drops of Lavender Oil. Add ¼ ounce of the oil blend to hot bath water just prior to entry.
Sore Muscle Massage Blend:
2 drops Ginger, 4 drops Peppermint, and 5 drops of Eucalyptus

Add to 2 ounces of Coconut Oil and blend

Place a small amount on your hands and start massaging.
Anti-stress Bath Salt Mix:
3 cups Sea Salt, Himalayan Pink Salt, or Epsom Salt

1 tablespoon baking soda

Add 1 tablespoon Coconut Oil and mix very well

Add 20 drops Lavender Oil, 5 drops Eucalyptus, 2 drops Frankincense

Mix well and place in an airtight jar. Use 1/2-1 cup of salt mix per bath. 
Anti-depression Blends:
Citrus Smile Diffuser Blend: 6 drops Orange with 4 drops Grapefruit
Orange Energy Diffuser Blend: 8 drops Orange with 2 drops Ylang Ylang
Jumping Ginger Diffuser Blend: 6 drops Orange with 4 drops Ginger
Sunshine Flowers Diffuser Blend: 2 drops of Lavender, 2 drops Ylang Ylang, 6 of Grapefruit
Immune Boost Diffuser Blend: 2 drop peppermint, 2 drop clove, 2 drop eucalyptus, 2 drop cinnamon, 2 drops orange
Energizing Blends:
Increase Focus Diffuser Blend: 6 drops Orange, 6 drops Peppermint
Hop and Skip Diffuser Blend: 6 drops Grapefruit and 4 drops Ginger
Happy Days Diffuser Blend: 4 drops Frankincense, 2 drops Lemon, 4 drops Peppermint
Run 3 Miles Diffuser Blend: 5 drops Lemon, 5 drops Grapefruit, 2 drops Ylang Ylang
Breathe Deeply Diffuser Blend: 6 drops Eucalyptus, 6 drops Tea Tree Oil, 2 drops Lemon
Energy, Energy, Energy Diffuser Blend: 3 drops Orange, 3 drops Frankincense, 3 drops Cinnamon
Holiday Blends:
Christmas Face Scrub:
1 cup organic coconut oil

1/2 cup organic brown sugar

1/2 cup organic granulated white sugar

3 tbsp. of organic coffee grounds

15 drops vanilla essential oil

2 tsp. organic honey

15 drops. Peppermint essential oil

2 Vitamin E capsules (optional)
       Directions: 
In a large bowl, combine ingredients in a large bowl thoroughly until they are all well combined.

If including a vitamin E capsule, poke the end with a pin and squeeze the oil from inside onto other ingredients.

Place in airtight container(s).

Store in a cool place or refrigerate, allowing ingredients to solidify
Grandma's Baking Again Diffuser Blend: 6 drops Cinnamon, 6 drops Orange, 5 drops Vanilla, and 2 drops of Clove
Candy Cane Diffuser Blend: 10 drops Peppermint, 2 drops Ylang Ylang
Autumn Chai Tea Diffuser Blend: 6 drops Cinnamon, 2 drops Clove, 2 drops Orange, 1 drop Ginger
---
Essential oils are on sale this week in our Roanoke, Virginia chiropractic office. All oils are 10% off and diffusers are 15% off. Please stop by to test our wide array of options and consider putting together a gift basket for a truly healing present. We would love to answer any questions and assist you.  Feel free to email or call us with any questions. 

Daryl C. Rich, D.C., C.S.C.S.