Chiropractic for adults simply makes sense. As adults we work 40+ hours per week and then come home to do more work. If we have some free time as adults, we go and work out and stress our bodies even more. So chiropractic to reduce joint pain, improve soft-tissue function, and allow us to get back to our jobs and hobbies is a necessity.
What about chiropractic for kids? Is it needed? Is chiropractic safe for children? These are important questions. We thought as the school year quickly approaches that this would be a good time to answer these questions and explain how chiropractic might be an important part of your child's success this academic year.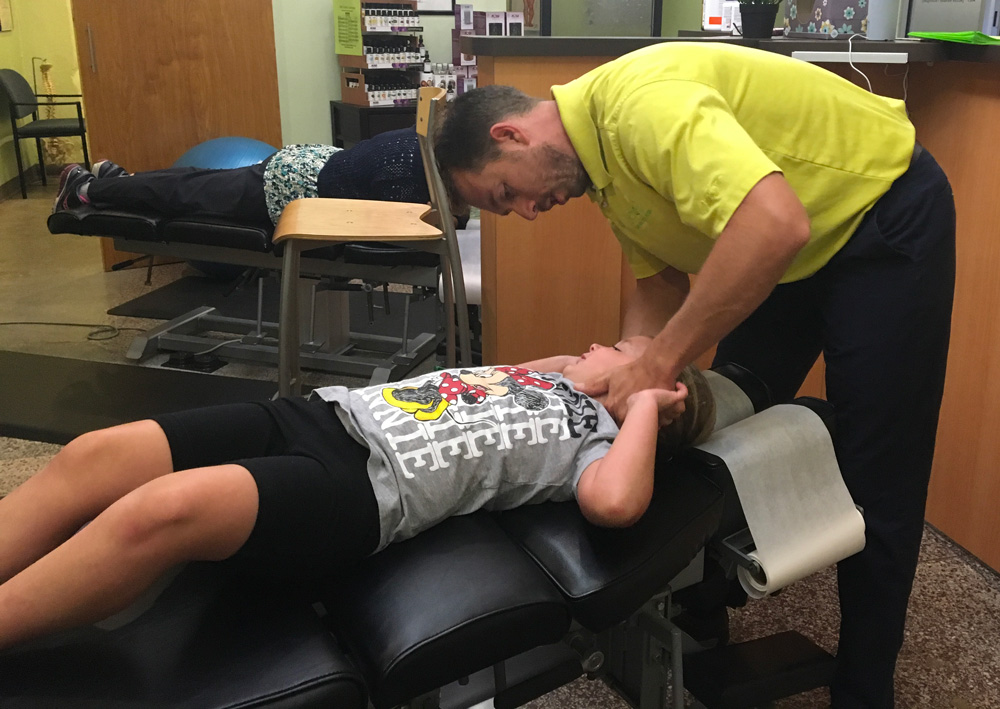 Chiropractic health care is both safe and extremely effective for children. Particularly children of school age can benefit from chiropractic as they are subject to the normal bumps and tumbles of childhood. They are also subject to unique stresses that can greatly affect their body. Things like heavy backpacks, using computer stations designed for adults, constant use of handheld devices, sports injuries, poor nutrition, and a lack of sleep can all have a large detrimental impact.
Chiropractic care is uniquely equipped to help reduce these problems naturally and drug-free. Chiropractic is a healing art that specializes in looking at the child as a whole person, including the growing musculoskeletal and nervous systems. Every chiropractor can look at posture and help improve joint function. But at [Core] we excel at understanding what muscle imbalances play a role in child development and how they influence the body and its many functions. Muscle imbalances can alter posture and decrease sport performance. Evidence also suggests these muscle imbalances may influence how the brain is able to learn, adapt to new challenges, and navigate through an increasingly stressful world.
Kids frequently love to get adjusted. In fact we have kids who ask their parents if they can come to get adjusted. We treat children very gently. We'll adjust their full spine and check for areas that are restricted. We will also look at all the extremity joints. We're very interested in how the hips, knees, ankles, and feet are growing and adapting as the child ages.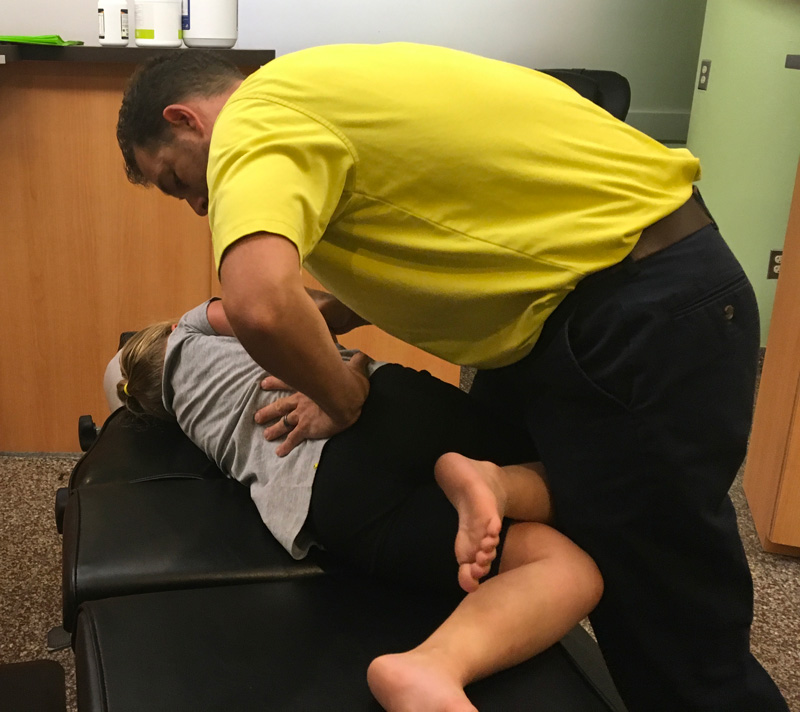 Beware that children should not wear backpacks or shoulder bags on one shoulder, as this has been shown to increase scoliosis of the spine. This bad habit can pull the muscles of the spine to the side, increasing the risk that there will be asymmetries in your child's back. Encourage your children to sit tall in their chair at school, at the dinner table, and certainly in front of the computer. Preventing rounded shoulders and slouched posture is one reason why this is an important time for children to be seeing a chiropractor.
Children can also be prone to repetitive stress injuries from year-round sports. Chiropractic is an extremely effective way of treating these children so they can get back in the game. Returning a child to their sport of choice encourages them to be active, which is good for their emotional and physical health. Taking a child to a chiropractor is a great way to teach children to take care of their bodies. We frequently see that children who come to our office have a heightened sense of body awareness. They know when their body hurts, where it hurts, and have more awareness of how they injured their bodies and when to ask for help. They also show a great awareness of nutrition and diet, how they sleep, and how to help their body feel better.
Get your kids started off to school right this year with some great packed-lunch ideas:
Rice bowl with fried egg and sliced avocado
Pita bread and hummus with a sliced cucumber
Sweet potato tacos filled with diced sweet potato, grilled chicken, and lettuce
Ham and cheese quesadillas with a sliced green apple
California sushi rolls
Chicken and noodle salad
Sliced turkey roll-ups with carrot sticks
Grilled chicken, broccoli, and watermelon
Peanut butter and jelly with snow peas
If you have any questions on how chiropractic may help your child or loved one, feel free to ask Dr. Rich or any of our front desk staff. We love seeing families getting healthy together.
All children's multi-vitamins, primadophilus, 5-htp, and fish/flax oils are 10% off through August 17! These are great for supporting your child's brain health, focus, positive mood, and immune system! Stop in our Roanoke, Virginia chiropractic office, and stock up on these items for the school year. We'll see you in the office!

Dr. Daryl Rich, DC, CSCS